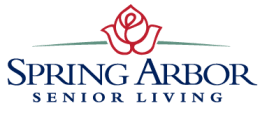 Welcome to Spring Arbor of Fredericksburg
Assisted Living & Memory Care in Fredericksburg, VA
Life at Spring Arbor is about how you live, enabling residents to live life to the fullest. At Spring Arbor, residents enjoy an engaging and active lifestyle that promotes independence and wellness while benefiting from high-quality assisted living in Fredericksburg, VA. It is our goal to keep every resident involved and linked to opportunities in the Fredericksburg area that will fulfill their interests and needs. Residents have many opportunities to participate in a variety of life enriching activities and events designed to stimulate the mind, body and soul; from word games, art activities, book clubs, to one of our signatures Wise & Well fitness exercise class.

Along with our assisted living community in Fredericksburg, VA, we also have our specially designed Memory Care Cottage for those with Alzheimers or related dementia. With the Spring Arbor Cottage Care program, we believe everyone has the right to live, love and discover enjoyment in every day regardless of abilities that have been lost to dementia. Every day we make it a goal to go above and beyond to enrich the lives of each resident. The staff is committed to delivering a quality of care that meets the resident's physical, social, spiritual and emotional needs.

Our senior living community in Fredericksburg, Virginia, combines signature programs, personal care services, and an extensive host of life enrichment activities to provide quality care and a warm, inviting environment where residents feel at home.

To learn more about Spring Arbor of Fredericksburg and explore what makes our team and community a top choice for Fredericksburg assisted living, call (540) 548-2133 to schedule a personal tour.
Lifestyle
EVERY COMFORT CONSIDERED
Activities and social events are key to our wellness-based model, which allows residents to take advantage of fitness, spiritual, and creative opportunities. Residents enjoy their choice of attractive apartments that include a full bath, built-in emergency response system, and maintenance-free lifestyle.
Testimonials
OUR RESIDENTS LOVE LIVING HERE
We certainly believed that by making the decision of choosing your facility, we extended her life and quality of her life as much as possible.

- Resident's Family
From timely medicine delivery, to any of her medical needs or personal needs, the staff did a good job.

- Resident's Family
Spring Arbor does an exceptional job catering to those with dementia and Alzheimer's. Providing a bright and open environment, well trained staff and various opportunities that offer positive stimulation (especially anything with music) for the resident is just a few of the wonderful attributes your facility has to offer.

- Resident's Family
Thank you all for breathing life back into mom. She has flourished since she has come to live at Spring Arbor.

- Resident's Family
You go the extra mile and we appreciate it.

- Resident's Family
With your help and with the help of your wonderful, caring staff, I became the daughter again.

- Resident's Family
Thank you for being a gift to my parents.

- Resident's Family
They really seem to take my mom's comfort personally. The facility was immaculate and the staff genuinely cared about my mother's dignity and well-being.

- Resident's Family
The mood at Spring Arbor was cheerful and friendly and it was a pleasure to be there.

- Resident's Family
The care my mother received was exemplary.

- Resident's Family
She is happier than I have seen her in awhile. The care givers are outstanding! The nurse & med-techs are awesome and so patient with all my new questions! The chefs make food absolutely delicious. The dining staff is right there to assist. The maintenance staff always there to help. You all have gone above and beyond for my mother!

- Resident's Family